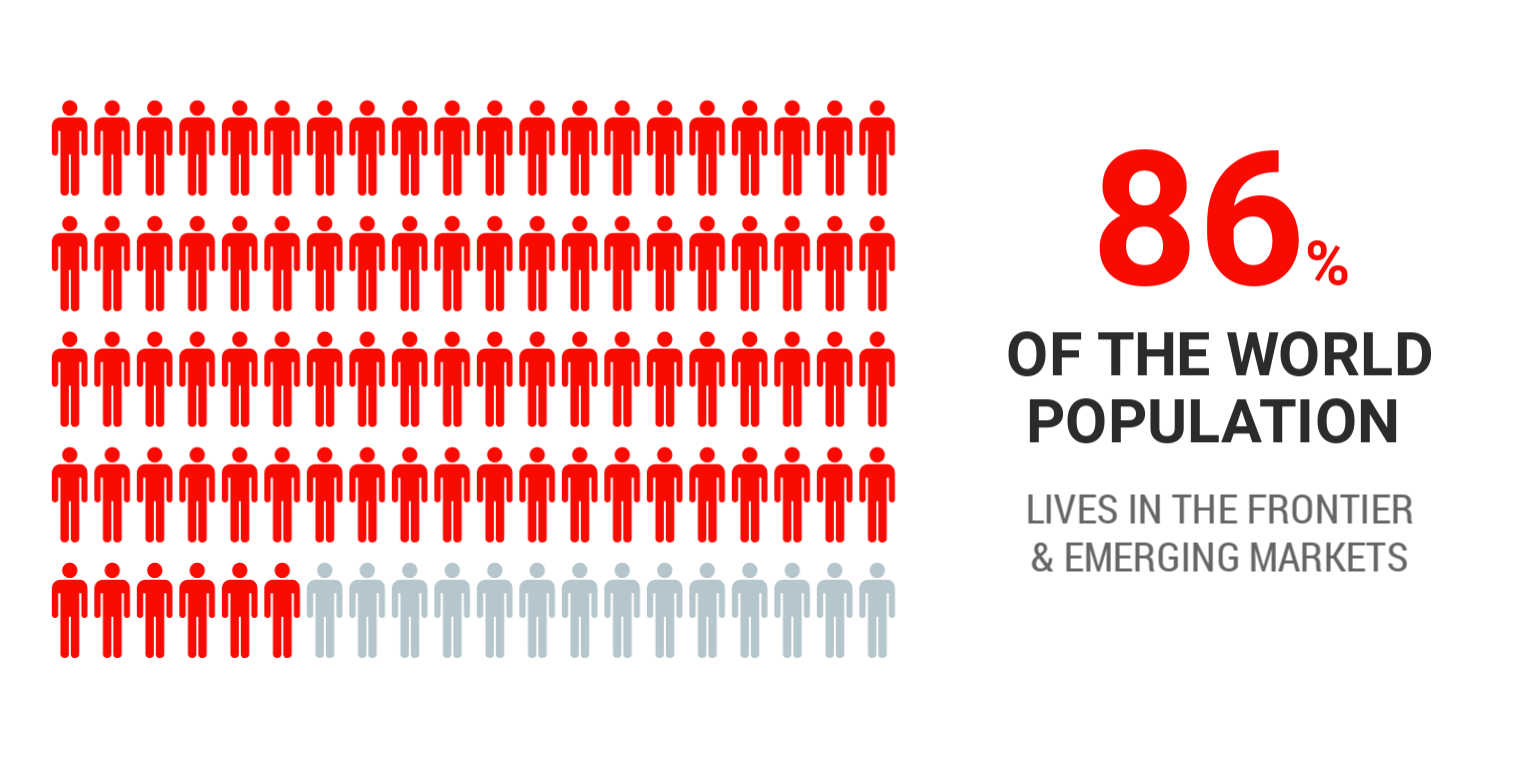 Global and Frontier Markets in particular have gone through dramatic political and economic changes over the last 10 years.
Growth in developed markets has been entirely financed by higher debt levels. However, the picture is different in the frontier markets, where GDP levels increased 4 times more than the growth in debt ratios.
Stock markets and their investors have not recognized the full magnitude of economic progress of the emerging and frontier markets as they significantly underperformed during the past decade.
Frontier markets have built a solid foundation for stronger future returns on discounted valuations, fairly priced currencies and positive GDP and inflation dynamics.
BIGGER ECONOMIES & MORE CONSUMERS
ABOVE AVERAGE GROWTH
GDP GROWTH 2007 - 2018
POSITIVE DEMOGRAPHICS
POPULATION GROWTH 2007-2018
FAST GROWING MIDDLE CLASS
GDP PER CAPITA GROWTH 2007-2018
STRONG BALANCE SHEETS
LOW DEBT LEVELS
GOVERNMENT DEBT AS % OF GDP
DEBT-FREE GROWTH
GDP GROWTH VS GROWTH DEBT RATIO
Data Sources: Silk Invest; IMF; World Bank; UN
Note: FM include NG, MO, KE, GH, EG, CI, UAE, QA, OM, KW, SA, VT, BD, PK, LK & AR; Africa 7 include FM Africa countries plus ZA
For more insights, make sure to get a copy of our latest special report